In Patrol Member Development you learn how to be an effective team member of a close-knit group. You're taught about the responsibilities of group membership and how to contribute your leadership skills.
2020 Camp Update
Due to the Coronovirus 19 pandemic and to insure the safety of all participants and staff, we are offering iWhite Stag from July 12-18, 2020. Our Internet camp offers individual study and exercises suited to help you advance your leadership skills. Cost is only $100. If you have already registered, to learn how to request a partial or complete refund, visit our registration page.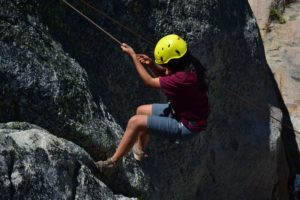 White Stag Sierra Phase 1 teaches you camping skills to help you feel more independent and able to take care of yourself. We also use the outdoor skills to help you learn leadership skills.
As a youth preparing to enter high school, you'll learn:
Leadership means to help keep the group together and get the job done.
The responsibilities of a patrol member, individually and collectively.
How to assume leadership roles usually available to youth 11-13 years old, like:

School band section leader
Scout Patrol Leader
Team captain
4-H club officer
Class officer

Five beginning leadership skills, including:

Setting the Example
Getting and Giving Information
Evaluation
Knowing and Using the Resources of the Group
The Patrol Method
Qualifications
To attend Phase 1 Patrol Member Development, you need to meet the following qualifications:
Be 11 years old or have graduated from the 5th grade.
Previous hiking or camping experience is helpful but not required.
What you do
You take an overnight backpack trip about 3-5 miles long. There are lots of team-related games, leadership development activities, and swimming, campfires, skits, songs, and lots of camp yells.
Space is limited
Reserve your space at summer camp today. Space is limited and we are likely to reach our capacity soon.